Recognition for participation!
Our Coffee Shop is very proud to recognize the participation, and dedication of our members!  We have developed a program that will reward our members for both their check ins to the nets, and, their overall time as a member of Our Coffee Shop! 
To receive your HONOR ROLL Certificates  YOU MUST REQUEST the award!
In your email request please indicate the honor roll certificate for which you qualify (see list below).  When your request is received, a review of your Honor Roll participation will be conducted and your progress verified. Upon verification, the appropriate award certificate(s) will be created and emailed to you!
Upon request and review, certificates will be awarded for the achievements listed below.
Check – Ins
100 – Possible in 8.3 Weeks
500 – Possible in 41.6 Weeks
1000 – Possible in 83.3 weeks / 1.6 Years
5000 – Possible in 416.6 Weeks / 8.01 Years
Membership Milestones
2 Years
5 Years
10 Years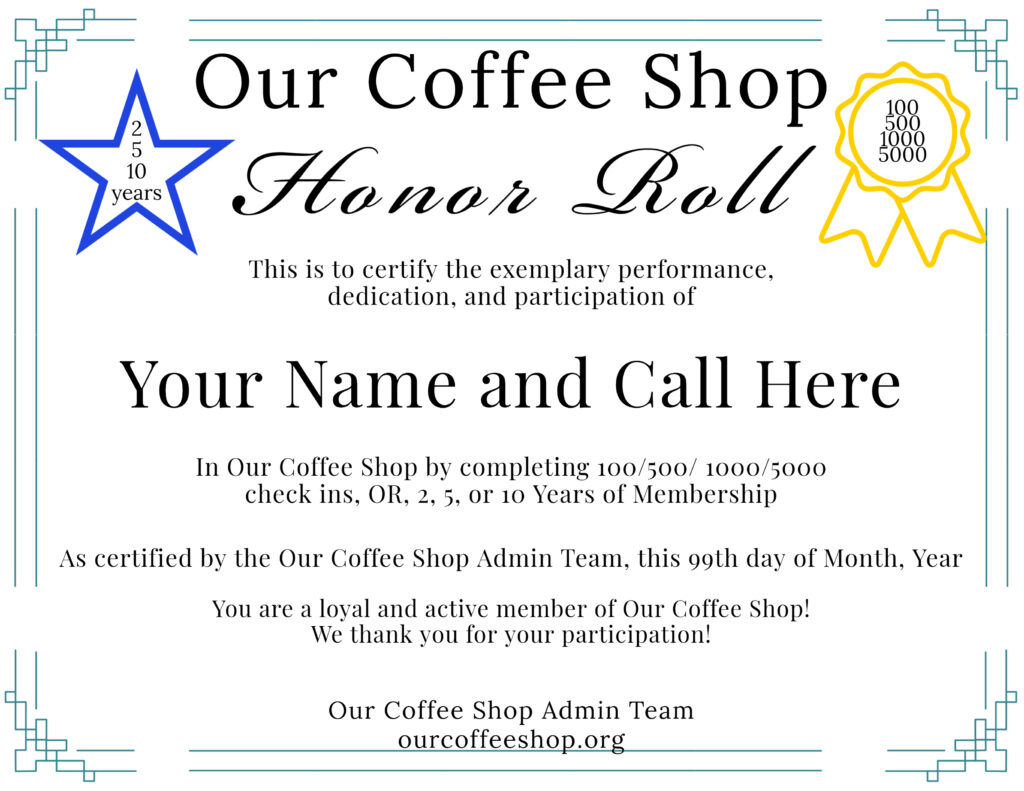 The members below are eligible for the awards indicated below!  Awards provided by request ONLY!  We thank you for your participation!
Check Ins
100
K5BLU
KC5BHO
KC5GVT
KC8FQV
KD8RNO
KD9OZW
KD9QHV
KE4GTQ
KF5UCO
KI5CFP
KI5KYX
KI7SDA
KK4VKM
KK4WVO
KK5NTL
KK6ZLF
KN4AO
KN4JUU
KN4VTK
N8THJ
N9WJP
NQ5D
VA3YYF
VE3BHG
W6DZL
W9NES
WT6E
500
AA2DW
K4BUC
KA5OBQ
KB3TYZ
KC7YFE
KE9XQ
KF7MCQ
N0EBB
N0OTS
N6JI
N7LMV
N9RFO
WB4AIZ
1000
K4BUC
K6FN
KB6YYT
KF7MCQ
N6JI
N9WJP
NV5B
WQ1I
5000
None
Years of Membership
2 Years
WQ1I
N9WJP
9W2IXY
AA2DW
AA5PJ
BARBARA
DIANE
K3VSA
K4VTX
K5BLU
K6DMO
KA3VRG
KA5OBQ
KB9RBB
KB9UVF
KC7YFE
KD9EPN
KD9KUP
KE0DC
KE0MOZ
KE0ULB
KE0UXE
KE8NRN
KE9XQ
KI4HTA
KI5CFP
KI7SDA
KN4JUU
KN4VTK
LAVONNE
M6NMJ
N0EBB
N1VXP
N2WDS
N3RO
N8THJ
NV5B
VE3BHG
W2YAL
W4WXA
WB4AIZ
WE4NUB
YD1CKA
5 Years
7L2VPL
AC2KI
G0NQZ
HEATHER
K0PJH
K1CSA
K4DKX
K6FN
KB3TYZ
KB6DOW
KB9NSK
KC5GVT
KE5GBC
KE6BPZ
KF4UTF
KF5UCO
KG7AYF
KI7HUB
KK5NTL
KK6YHQ
KK6ZLF
M6LZX
N9GSU
N9OJC
N9RFO
NG9Z
W9NES
WA4NFZ
WT6E
10 Years
G6GUD
K3TEL
KB4SVP
KB6YYT
KC2THO
KD4TMH
KJ4UTS
KK4AMD
M3YCJ
M3YEU
N1FG
N4BOB
N7LMV
N9ZIV
VK5AVR
VK5ND
WA1PJG
WA4CJX
ZL2ADR
ZL2OO