Kit Radio, boards pre assembled, 
Max 10W output
SSB and CW Modes
3 Mhz to 30 Mh
Digital Tuning
Dual VFO
RIT
2.8″ 320 x 240 TFT Display
Open Source Software
12 VDC 3 Amp power required
Basic and Full Kit Options
$150 and $199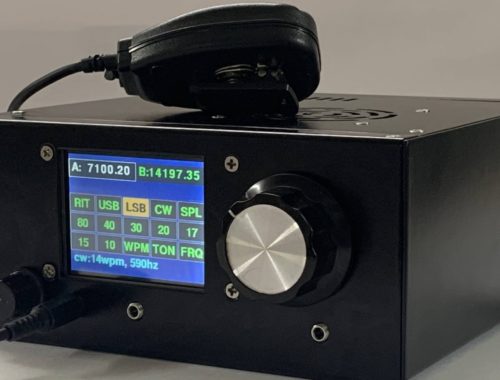 One of my first experiences with radio, other than just turning one on and listening, was building a crystal radio receiver from a kit. When I finished, it looked something like the one on the bottom of this page. Perhaps not quite so neatly laid out. 
This picture above however, is the finished product of a kit you can buy today should you desire to. It looks like you could probably have it assembled and operating in an afternoon and it might be fun to play with! In fact, the manufacturer's website says "you can assemble it in an hour with just a screwdriver!"
In the video below, the creator of this radio gives you a brief walkthrough of it's operation.
Basic Kit – $150
Main uBITX board with mounting hardware
TFT – Raduino Board with Display and mounting hardware
Tuning encoder with cable presoldered
Microphone with PTT
Acrylic front panel and back panels as templates
Tuning Knob
Volume Knob
Power supply jack
Full Kit – $199
Main uBITX board with mounting hardware
TFT – Raduino Board with Display with mounting hardware
Encoder with presoldered cable
Tuning knob
Volume knob
USB extender cable
Mounting screws, nuts
Microphone
Power supply jack
Speaker
Cabinet (box) – chassis, front, back panel and top panels
This radio with its relatively simple circuitry get my mind thinking about what might be possible if you do some modifications.  A number of things come to mind. I was able to find a number of references on the net to folks that have made modifications to the rig.
One that I had considered, another fellow has already done. That is adding an SDR dongle to the rig. I was contemplating doing something similar.
This radio could be a great little unit just like it is,  and, it could be fun little rig to experiment with too!
I built a kit as a boy that was very similar to the one shown here. I'm sure my final product was not quite as neat in appearance, but it fueled my interest in radio like throwing gas on a flame.
I was absolutely amazed that I could hear these distant radio stations without the use of a battery or other power supply.  It was many years later when I learned and understood how and why that worked, but it fascinated me as a child none the less. 
73
KD4LQB